Up We Go Mzansi Creative Competition
As part of this campaign we launched a nationwide Up We Go Mzansi Creative Competition, calling on talented youth to help motivate and inspire all people living in South Africa, to harness our collective talents and strengths, and move our country upwards together. Please note this competition is now closed and we are excited to announce our finalists in each category (see below).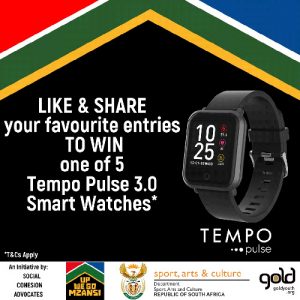 Up We Go Mzansi invite the public to vote for who they believe deserves to win R25 000 in each of the four categories: SONG, DANCE, SPOKEN WORD and ART.
Voting opened 3 September 2021 and closes 20 September 2021. The winners are to be announced on Heritage Day (24 September 2021). This will be a celebration of the heritage of all people in South African and will hopefully inspire us all to use our power and collective strengths to move SA upwards together!
How the public can vote:
1. Go to the @UpWeGoMzansi Instagram Page or the Up We Go Mzansi Facebook page (@UpWeGoMzansi) and like your favourite entries in each category.
2. Share the posts you like either to your Facebook page or Instagram stories. Use the hashtag #UpWeGoMzansi and Tag Up We Go Mzansi.
3. Make sure you follow Up We Go Mzansi on Instagram or Facebook.
Each person who likes and shares their favourite entries will stand a chance to win 1 of 5 Tempo Pulse 3.0 Smart Watches launching in SA later this year!
Up We Go Mzansi is a movement calling all people living in South Africa to use our personal power and collective strengths to move South Africa upwards together. This competition is searching for the best entries from our youth that will inspire our nation to move SA upwards together. The winner in each category will win a cash prize of R25 000. Your likes together with the judges scores will determine the winners. The judging panel is made up of creative specialists and prominent Social Cohesion Advocates and include among others, anti-apartheid activist and vocal artist PJ Powers/Thandeka, social anthropologist and Capitol Radio presenter Dr Raj Govender and founder of The Institute of Afrikology Dr Yaa Ashantewaa Archer-Ngidi.
Likes will be counted as of midnight on 20 September 2021 and winners will be announced on Heritage Day 24 September. This will be the perfect day to celebrate the diversity of our people and the exciting future we can make a reality when we all use our power to move SA upwards TOGETHER! 
Here are the 5 finalists per category (in no specific order):

The Top 5 in SONG:
Dionne – Gauteng
Pako Meremetsi – North West Province
Riley Gandhari – Kwa-Zulu Natal
Kabelo Nokaneng – Gauteng
Relebogile Latane – Gauteng
The Top 5 in DANCE:
Nhlakanipho Kubeka – Gauteng
Synced Brothers – Mpumulanga
Jakane Ntswagae – North West
Gilbert Goliath – Gauteng
Thabelo Kgathi Dance Cultural – Northern Cape
The Top 5 in ART:
Anathi Maho – Gauteng
Polelo – Gauteng
Unathi Mgolombane – Gauteng
Lizalise Mfenyana – Western Cape
Wanda Nyakathisa – Western Cape
The Top 5 in SPOKEN WORD:
Lungisa Zondi
SACS – Western Cape
Gabriel Plaatjies – Eastern Cape
Monde Koloi – Northern Cape
Tshiamo Nzeko – North West Province

We Believe In You
We believe that the answers for a better future lie with YOU, our young people, and that your talent can help us spark the motivation that will lead to fireworks of positive change across our country.

Participation
We'd like to hear how YOU believe we can together create the South Africa that you want to live in and feel you want to belong to.
After watching the 2 video clips in the Get Talking section on "Speeches that changed our World" and using the Talk Group Guide to discuss these topics, send us your own inspirational song, dance, spoken word, and/or artwork. 
First prize is R25 000 per category!

Entry Guidelines
Entries are accepted from youth age 13 – 34.  All participants must be living in South Africa.
Creative Challenge and Purpose
Use your creative talents in one of the 4 creative categories:
Song
Dance
Spoken Word
Visual Arts
Terms & Conditions
Welcome to the Up We Go Mzansi Creative Competition ("the competition"), conducted by the Social Cohesion Advocates Programme (SCAP) of the Department of Sports Arts and Culture (DSAC) ("Promoter").