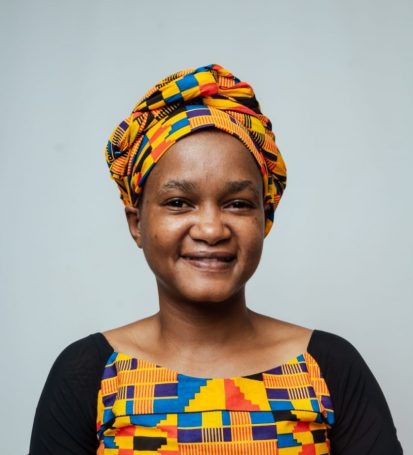 Cresencia Nyathi
Lead of Youth Social Cohesion Advocate Programme
What is your educational or experience background that equips you to add value to this SCA team?
Academically, I hold a First-Class Bachelor's Degree in Peace and Conflict Studies with a History minor. My highest qualification is a Master's in Public Management specializing in Peacebuilding and currently waiting for my results of my Ph.D. in Public Management specializing in Peacebuilding. Currently, I facilitate dialogues and training within KwaZulu Natal communities on issues on human rights and migration issues to promote social cohesion with community members, especially young people. In 2017, I was trained by Africa Unite as a Human Rights Peer Educator under the Human Right for Social Cohesion Programme which seeks to promote tolerance and respect for diversity and the fundamental human rights for all, regardless of age, gender, or nationality.
Furthermore, I also train KwaZulu Natal communities on conflict resolution skills based on my academic studies and training I have acquired on Alternatives to Violence Project (AVP) under the International Centre of Nonviolence (ICON), Innovative Leadership Programme under ICON, DUT, and ACCORD, Train the Trainer Workshop on Democracy for All by Street Law based in UKZN. Furthermore, my Ph.D. research study focuses on reducing youth participation in xenophobic violence within Durban. The main purpose of the study is to explore what is beneath youth participation in xenophobic violence, factors that drive the recurrence of xenophobic violence, to identify the intervention strategies conducted by the government, civil societies, and relevant stakeholders to reduce xenophobic violence and to design and implement an intervention strategy to reduce xenophobic violence.
Despite the recurrence of xenophobic attacks in South Africa, it seems, existing research has not led to a reduction of this phenomenon. Literature on the xenophobic phenomenon has mainly focused on exploring the problem of xenophobic attitudes and suggested policies that can be adopted to reduce these xenophobic sentiments, however, overlooking the role played by actors, particularly the youth. Against this background, my work engages youth to explore and understand the dynamics of the communities and how they can be the drivers of peacebuilding, promote social cohesion and sustainable development in their communities. This understanding will be critical in influencing policymakers, peace practitioners, and civil society organizations on what contribution they can make to promote social cohesion and nonviolent ways of resolving conflicts so that youth can play a pivotal role in peacebuilding initiatives nationally.
WHY ARE YOU A SOCIAL COHESION ADVOCATE?
I want to implement peacebuilding initiatives within our communities as most of these conflicts and violence are based on prejudice, stereotypes, and negative perceptions we have against each other in South Africa. Hence, dread, suspicion, mistrust, scorn, and misperception set in prompting the violence recurrence. How to halt these harmful and dehumanizing mentalities and practices while expanding constructive ones and how to conquer separation among 'us' and 'them' subsequently turned into a complex intervention that is worth pursuing, hence I am a Social Cohesion Advocate. Moreover, I subscribe to the National Development Plan (NDP) which envisions a South African society in 2030 that would embrace its diversity rather than highlight observable differences along the contours of race, class, gender, religion, culture, and other social constructs. Therefore, through training and dialogues, I am conducting, I believe that the core is our humanity and that the talents and experiences of all South Africans, even those outside of the country, must be harnessed if this country is to come anywhere close to realizing the vision of the NDP, that is, a future South African society that is socially integrated and inclusive.
What change are you passionate about seeing come about?
My work is driven by a desire to break the cycle of violence within South African communities by adopting a constructive route of resolving conflicts. From time to time, flashes of anger, resentment, and hatred manifest themselves, which makes one assert that the history of violence has also contributed to the use of violence as a way of resolving conflicts. My passion is to help build the motivation and capacity of youth to use effective, nonviolent ways of dealing with the conflicts in which they are involved. Youth are frequently condemned by media and society as violent and troublemakers, but I believe that by training and then engaging youth in promoting nonviolence they have great potential to promote peace. As you know, there are no easy answers to the challenges faced by youth, women, children, and men and the inequalities gripping our country. I conduct dialogues, training, and skills transfer initiatives to stimulate new thinking, creating safe spaces for problem-solving and developing new actions and new levels of collaboration among all of us to raise communities that value and respect and treat all groups of the society with dignity.
What makes you feel uniquely South African?
I believe in taking an active role in bringing about societal change and not being a bystander. I believe in tapping into our already available resources and using them to tell our stories and at the same time amplifying the voices of our communities. I value that communities are the experts of their problems and more important solution bearers. Hence, through this, I believe in communities taking ownership of interventions so that they are not short-lived and for accountability purposes so that we move South Africa upward leaving no one behind.
What is your dream for South Africa by 2030?
To have a South Africa that does not resort to violence as a way of resolving conflicts.
To have youth who are at the forefront of driving socio-economic development.
To harness our youth dividend and take a second look at its architecture youth development, with the view of repositioning youth at the center of the broader governance and development agenda.
What do you believe South Africans need to do to make this dream a reality?
We need to collaborate as government, civil society organizations, communities and not work in silos. It is not the time of reinventing the wheel but rebuilding on what we already have.
We need to address urgently our socio-economic challenges as unaddressed collective discontentedness emanating from poor service delivery and poor governance, if this persists, we will continue to blame each other for socio-economic ills and this discontentedness.
What topics are you equipped and at ease talking about in the media?
Migration issues
Youth issues
Socio-economic development issues
Peacebuilding issues
Social Cohesion issues
What specific National Days are you interested in being involved in arranging with the DSAC and why?
Human Rights Day, Africa Day, Youth Day, Heritage Day.
I am interested in being involved and arranging because national days are pivotal in opening spaces for knowledge exchange as one of the challenges raised by communities was the lack of spaces for all groups of the society to meet and know each other better. Through these, we can have cultural and language exchanges, share African stories and experiences through storytelling. We can also incorporate skill-sharing initiatives to equip our youth as they are the biggest group in our society greatly affected by high-rate unemployment. Through skills sharing, we can cultivate a culture of self-sustainability through self-income generating initiatives.
Who are we as South Africans?
We are a resilient society and rich in diversity and having the ability to push peaceful initiatives in promoting nation-building and social cohesion.